---
PassKeeper is a Windows utility that allows you to keep a list of accounts with usernames, passwords, and notes. This list is stored encrypted.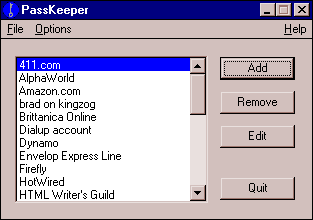 I developed PassKeeper in order to keep track of the many different "accounts" I have across the Net. Many services on the Web, for example, require you to register and give out a username and password, which you are often allowed to pick out yourself, but not always. Examples of such services include HotWired, Pathfinder, and Amazon.com. Of course, PassKeeper can be used to safely keep a record of anything, really.
PassKeeper is free for individual and non-profit use. Corporations and generous individuals are encouraged to make a $10/copy donation. You can do this now via PayPal.